Lux meter apps could be a great thing: They replace a clunky and costly tool with a sleek and powerful device you always have with you – and this at a much lower price, if not for free! We've tested the most popular iPhone apps to see if they can be used to measure the light output of a grow light and found that almost all of them are essentially useless. They miss their one single purpose: To measure illuminance accurately.
The Candidates
We browsed for the commonly used and most referenced lux light meters on the App Store. All of the apps were tested on an iPhone X running iOS 13.4 and in the version shown in the screenshots below.
Lux Light Meter Pro
The Lux Light Meter Pro app developed by Elena Polyanskaya seems to be widely used and ranks first in the App Store search. Using it has a learning curve attached, but once you get the hang of it, it works reliably.
The developer seems to be publishing a lot in the utility app sector with no special focus on measuring light.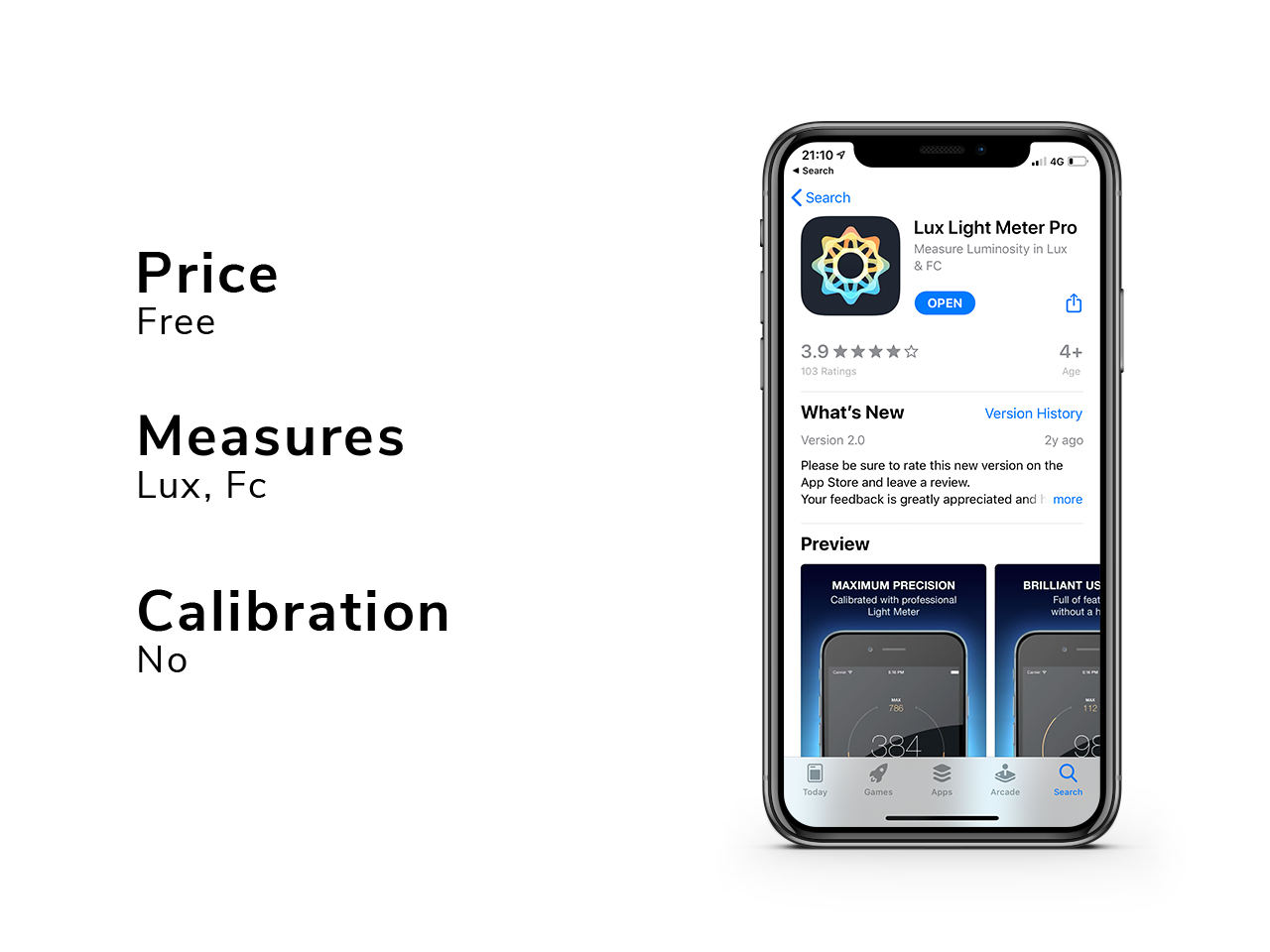 LUX Light Meter FREE
This app is developed by Nipakul Buttua, available for free and unfortunately bombarding you with advertising. The feature we like is the shown camera feed, which allows for precise aiming at the desired light source. Other than that, the user interface seems very outdated and clunky.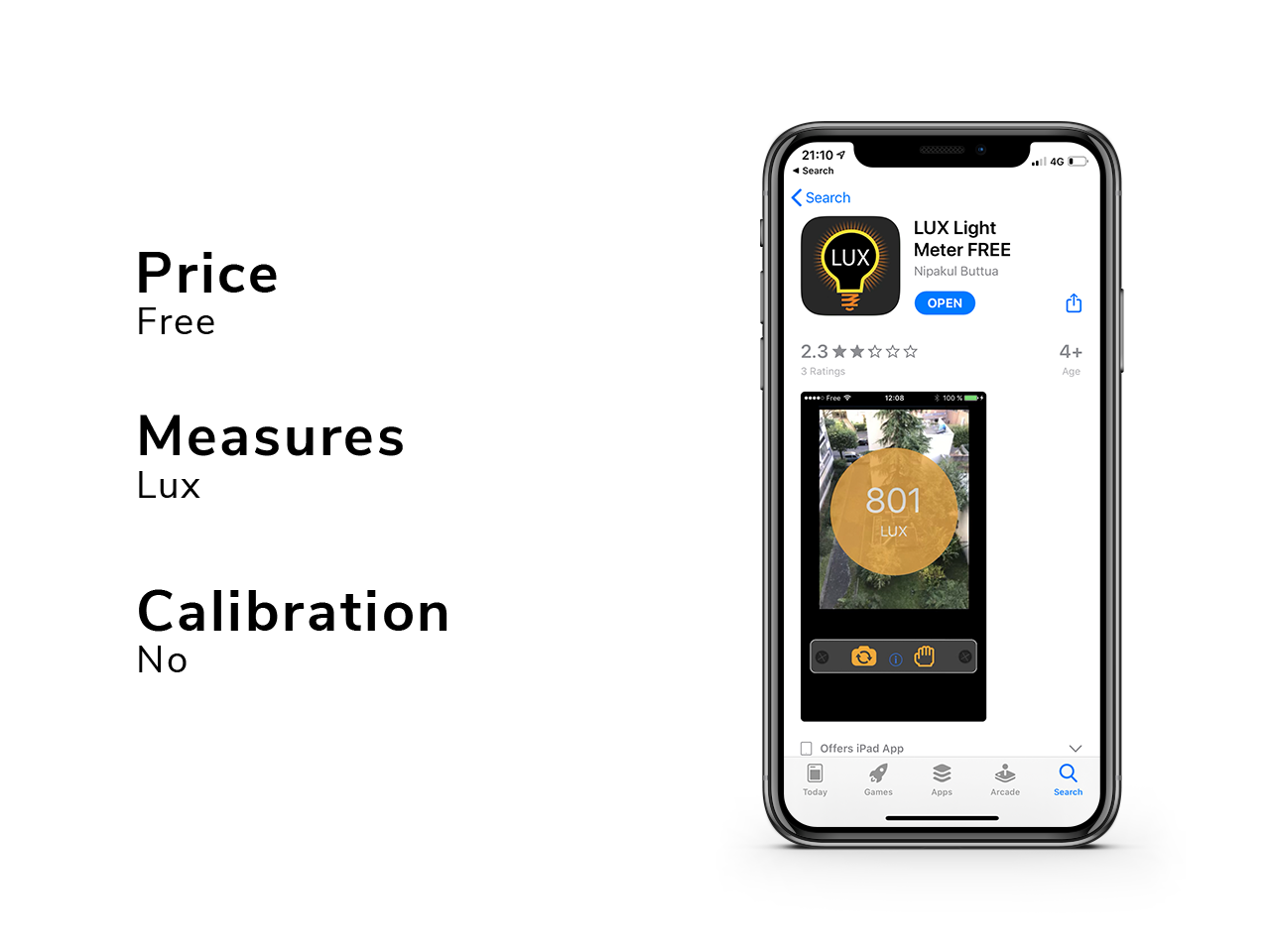 Nurus Light Wellness
This app is published by Nurus and available for free. The Nurus Light Wellness app seems to be created for indoor light usage. The features we especially like is the relatively simple user interface and the ability to measure light temperature as well.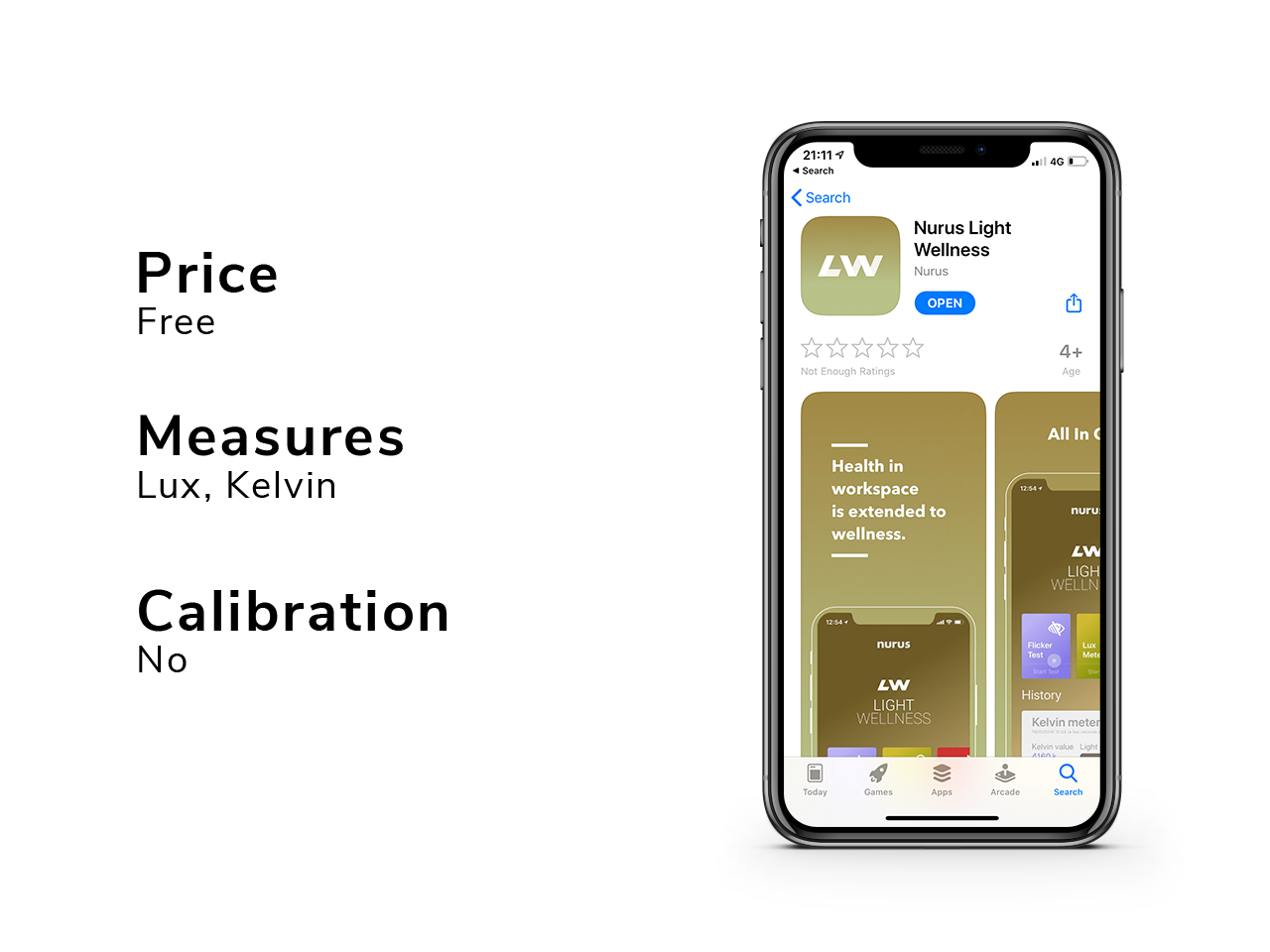 Light Meter - measure luminosity
This app is developed by Vlad Polyanskiy, and freely downloadable. It looks and feels very much like the Lux Light Meter Pro app. Furthermore, the development on this app seems to have stopped with the most recent update already more than 3 years ago.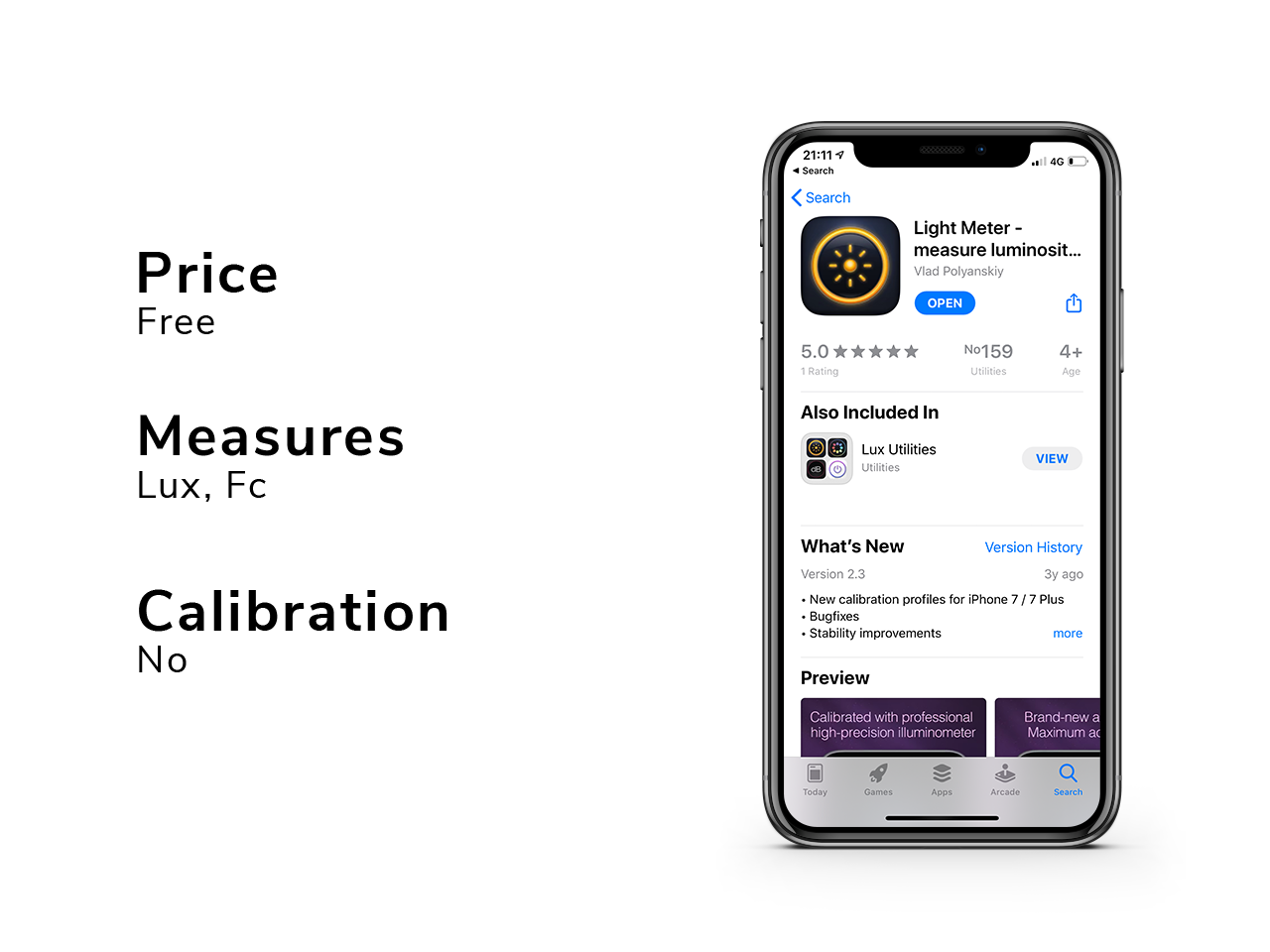 Lux Meter - Lumi
This app is developed by GWANG GEUN MOON, freely downloadable and offers In-App purchases. It seems a little unmaintained and the referenced customer support page does not exist. However, it claims to be able to measure illuminance with the front camera, which is what we are looking for.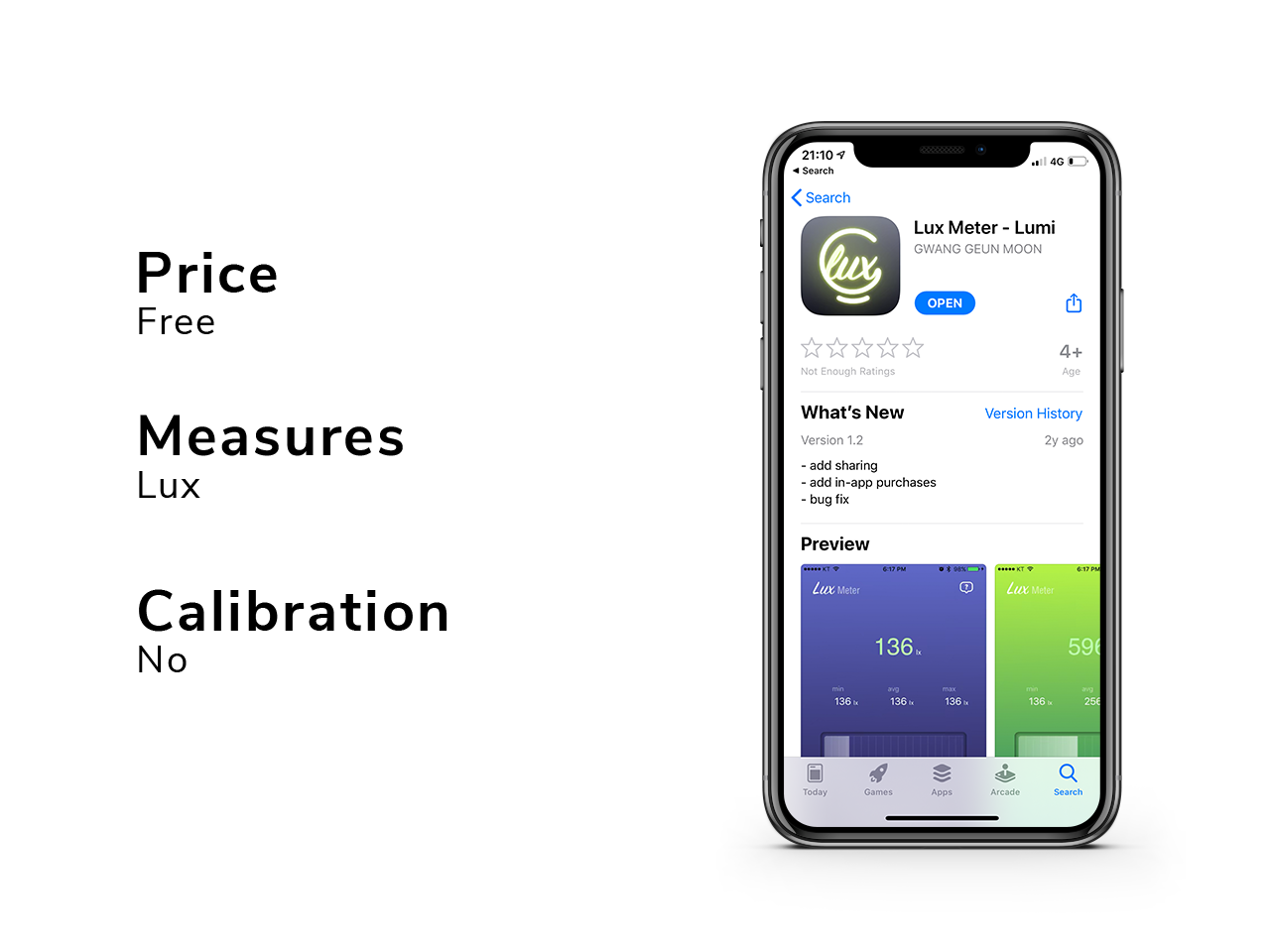 Plant Light Meter
This app seems to be purpose built to identify plant lighting scenarios and is the only paid app in our comparison. The reading is available in lux, but it does not display any illuminance above 16'000 lux which makes it essentially useless for indoor plant cultivation with artificial lighting.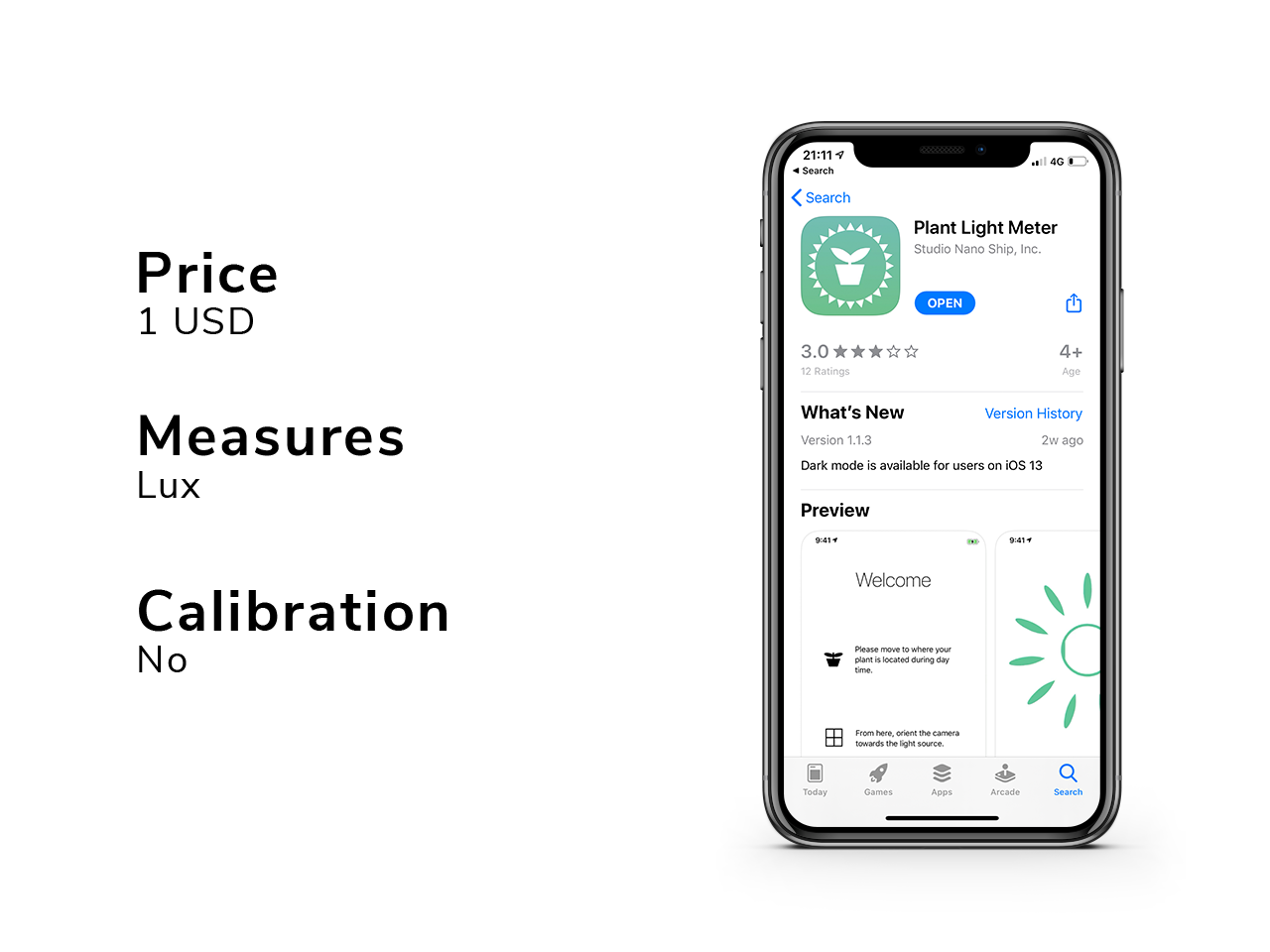 Korona - Plant Light Meter
Of course we are not creating this article without a little self promotion – even though it originated out of sheer curiosity. We've put Korona (now named Photone) to the test as a simple lux meter, which is not even using it at its full capability as a PAR meter to measure PPFD.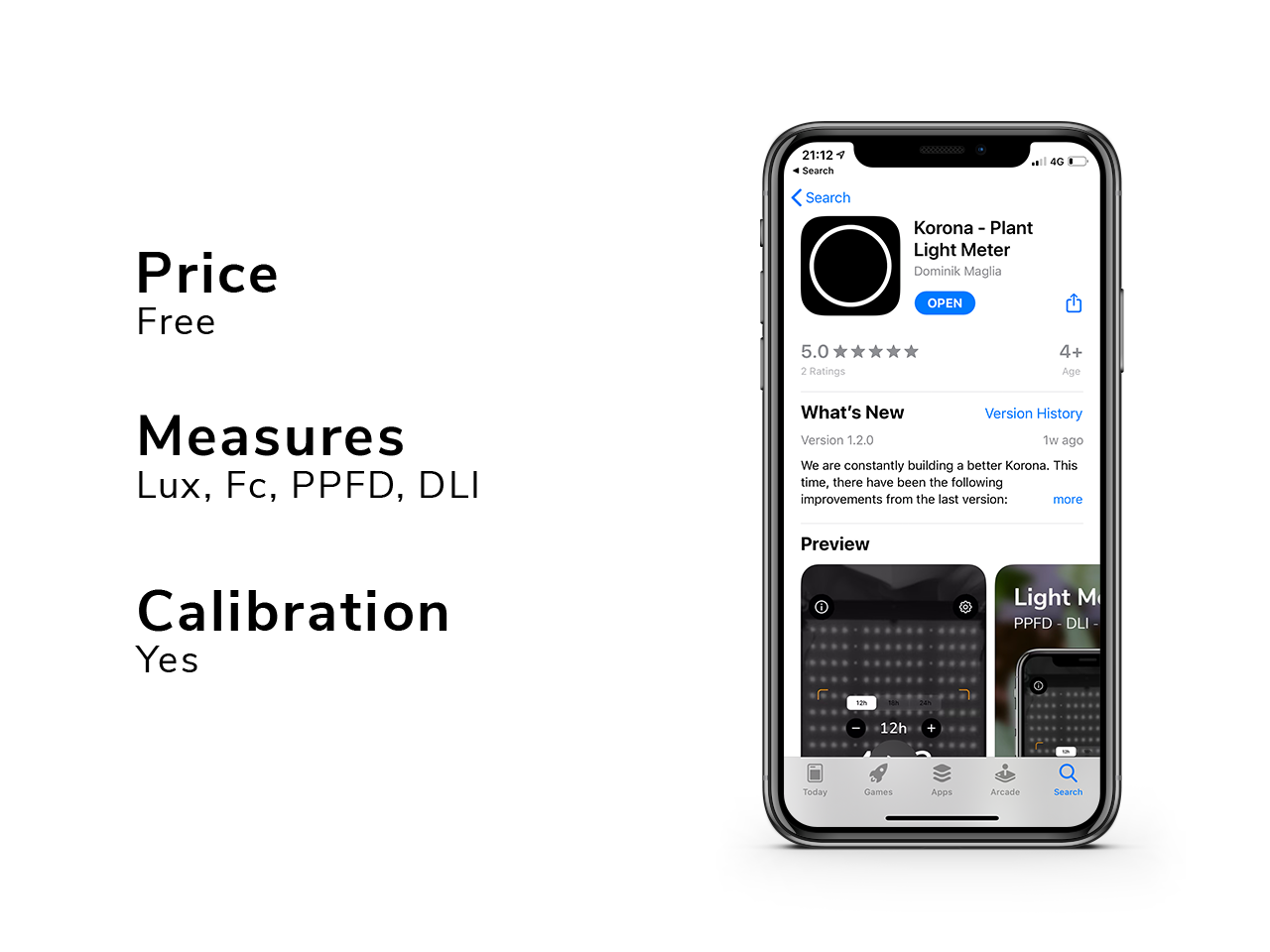 The Lights
We intend to use the lux meter apps for the evaluation of plant light. Therefore, we used common plant grow lights as references to evaluate the different apps.
High Pressure Sodium (HPS) HID Light
High pressure sodium (HPS) lights used to be the standard for high-power indoor lighting and are still commonly used today for their low price-to-watt ratio. We used a 400W setup with a Sylvania GroLux bulb.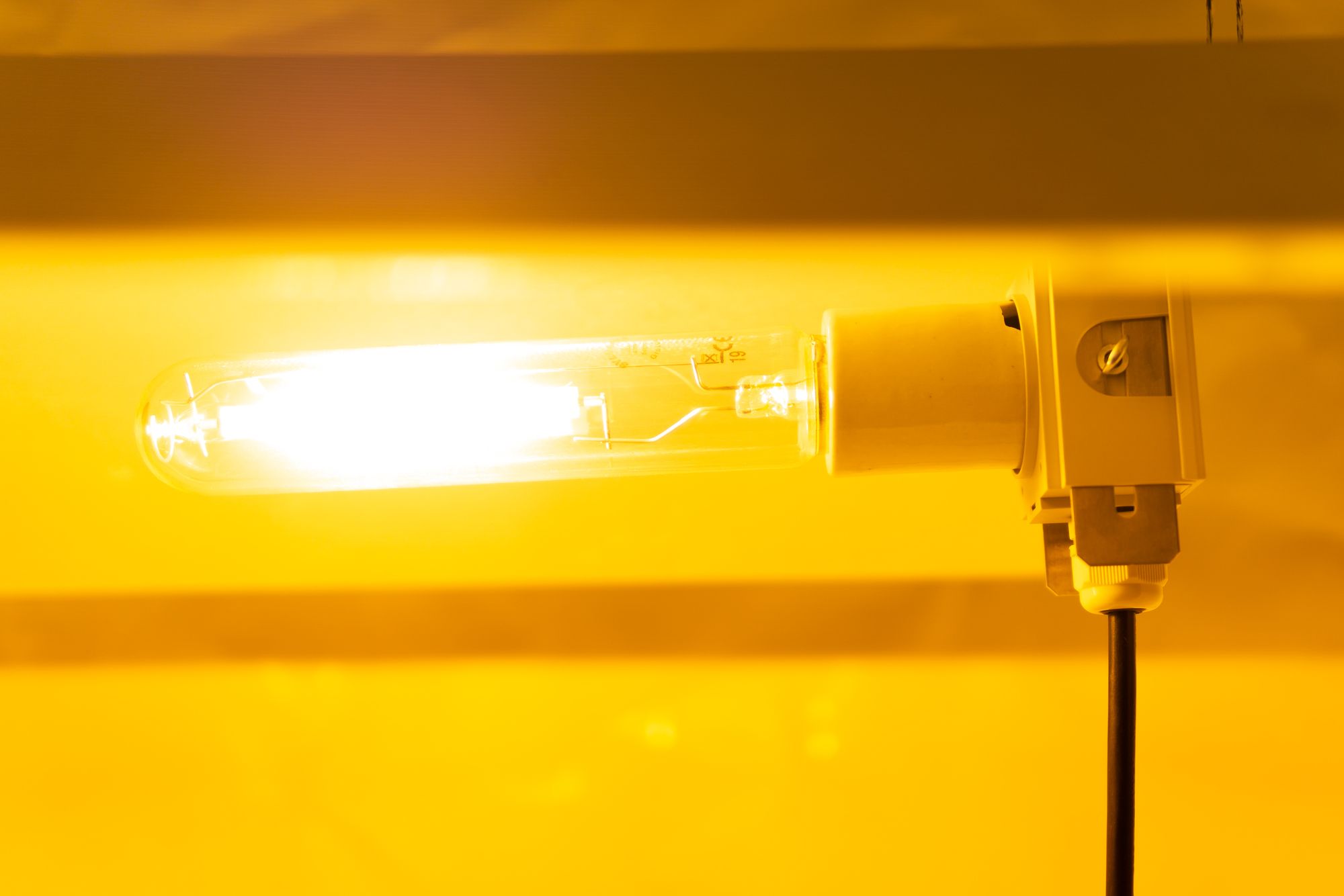 Full Spectrum Spider LED
As plant light technologies evolved, sophisticated and more efficient LED lights were developed. The spider type currently represents the state-of-the-art in grow light technologies; an even footprint, great spectrum, high efficiency, low heat dissipation and a lot of light output. For our tests, we used a 645W, 8 bar, Samsung LB301B equipped full spectrum spider light.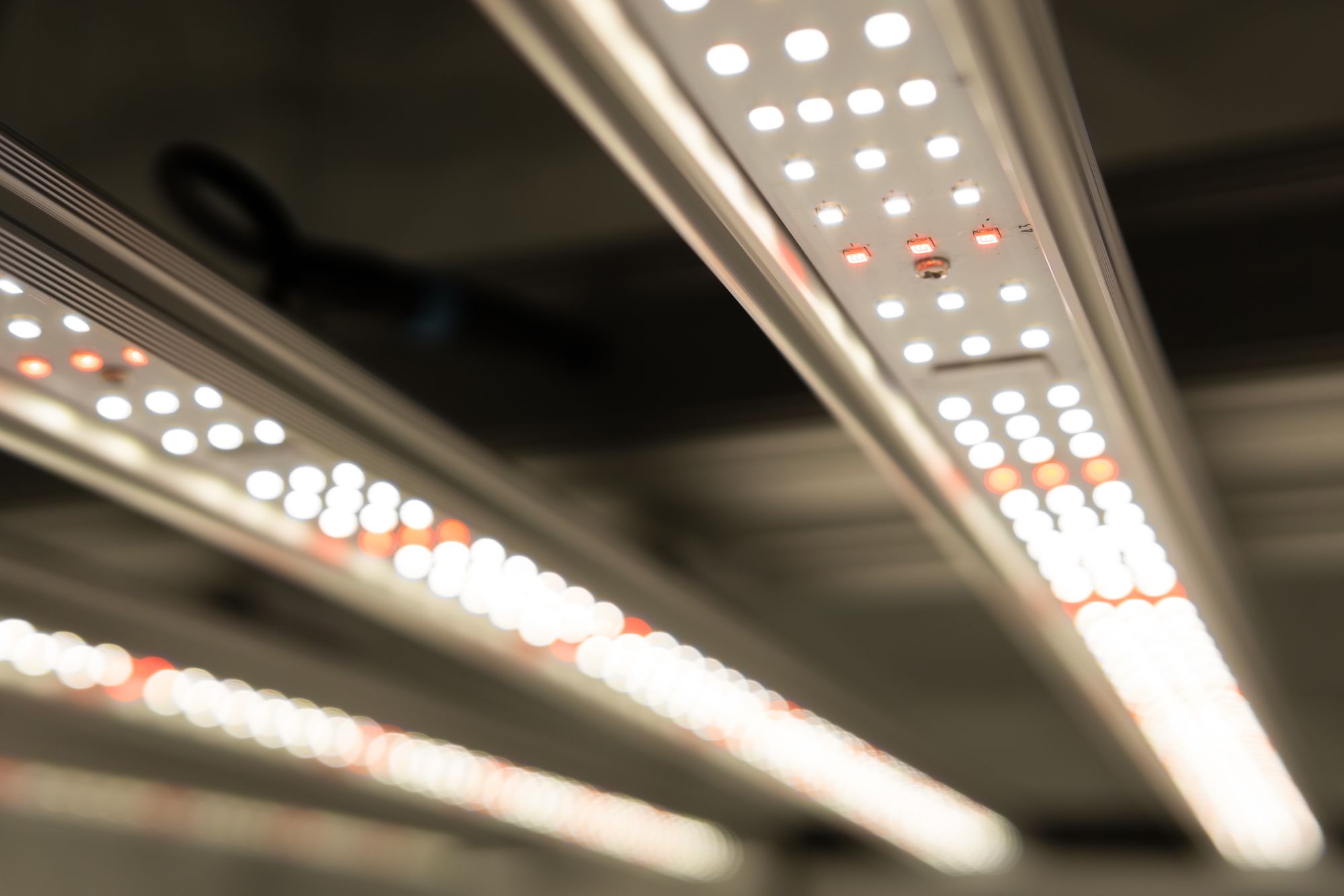 Full Spectrum COB LED
The cheaper alternative to using mid-power LED chips such as the Samsung LM301 series are chip-on-board (COB) lights. For this test, we used a lamp equipped with two Cree CXB3950 chips.
Full Spectrum Quantum Board LED
The test setup wouldn't be complete without a comparison for the widely used and DIY friendly LED quantum boards. The board we used is a 120W LM301B board with a 3500K color temperature supported by 660nm pure red LEDs.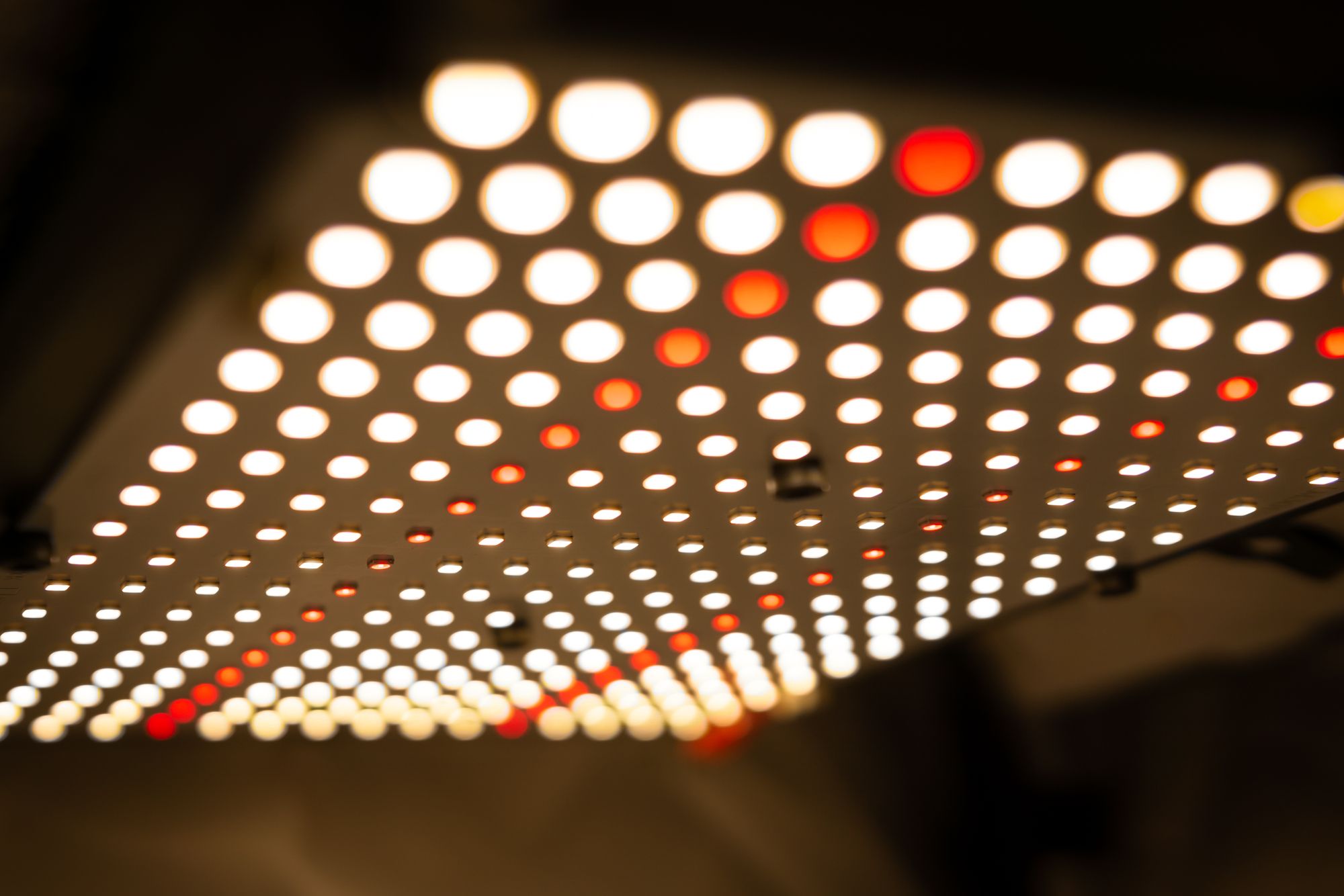 The Test Setup
In order to capture accurate and comparable measurements, we set up a special environment to remove all obfuscating variables. Our test setup consists of a light-proof 4'x4' tent with a white, reflective interior, a grid, and the possibility to mount the lamps at different heights to the measurement surface.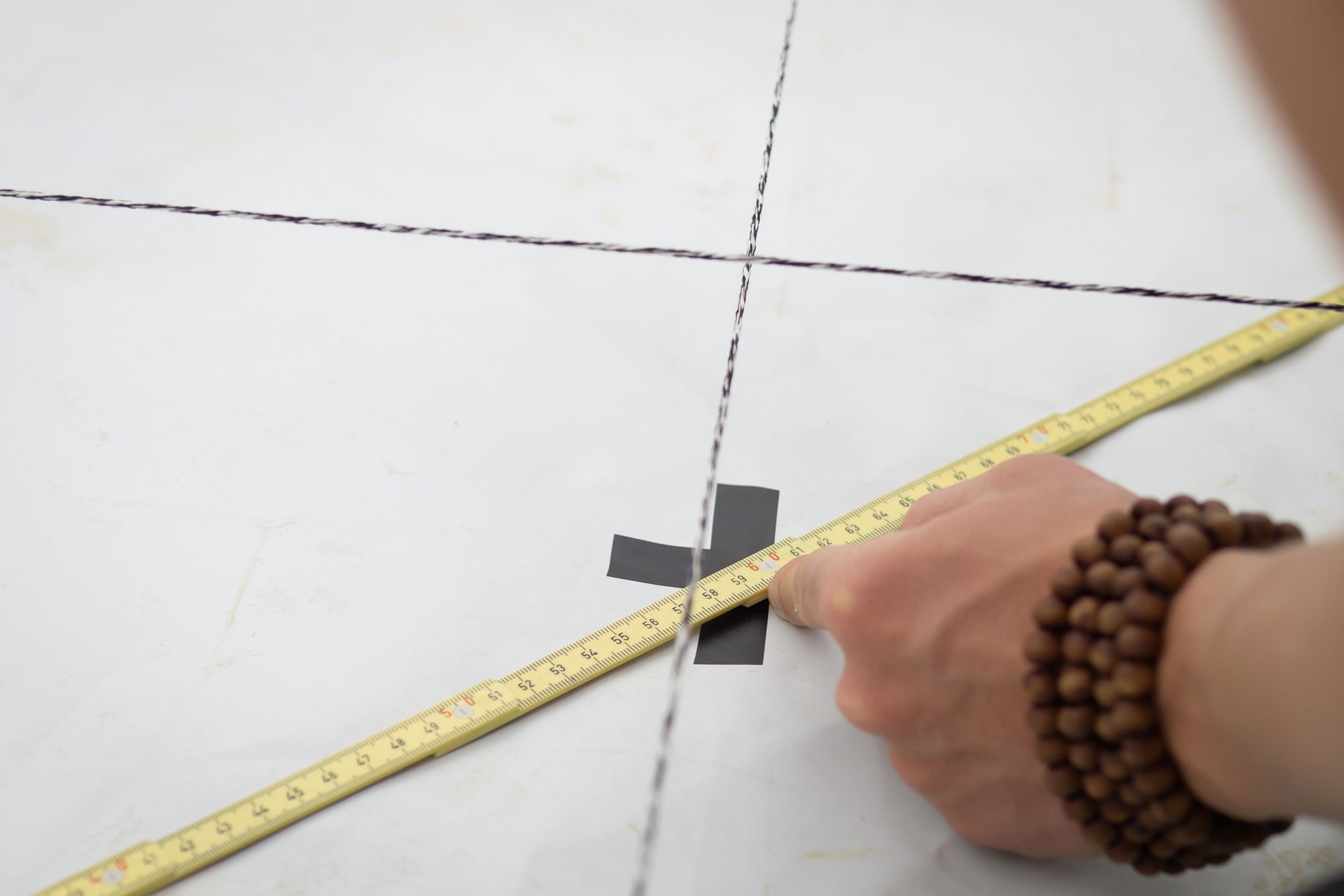 The one thing that most users of light meter apps lack is an accurate reference lux meter. Fortunately enough, we are in the business of measuring light accurately and therefore own the reliable and expensive tools. The reference meter we used throughout this comparison is a JIS C 1609:1993 Class A certified lux meter made by PeakTech coming in at around $120.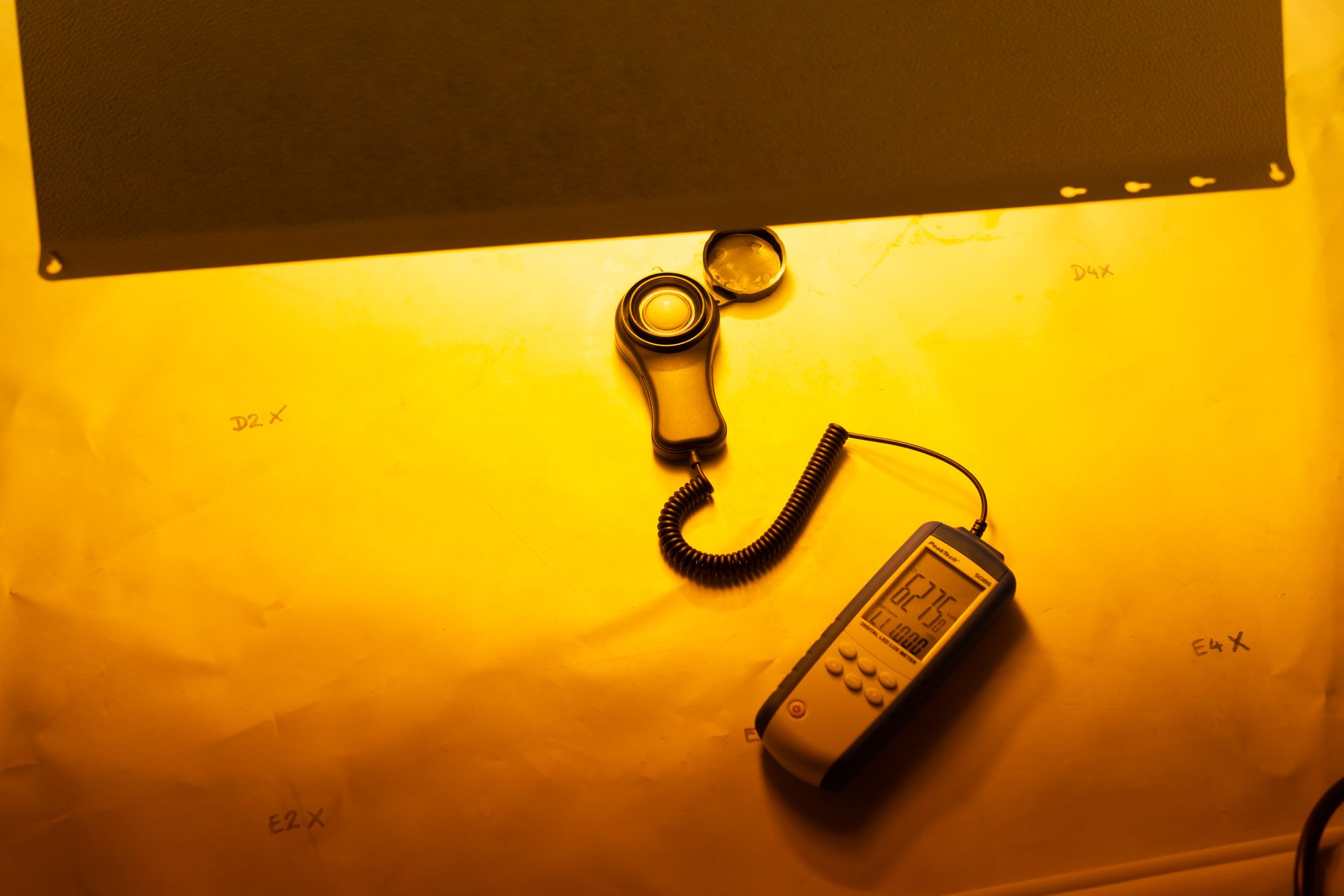 We set up all of our test lights at a common measurement distance of 12" from the point of reference. Once this was all set up, we were ready to start measuring.
Measurement Showdown
The measurements revealed a very wide spectrum of results and on most apps, a very high error percentage!  
Raw Lux Measurements
| Light Meter | HPS | Spider LED | COB LED | QB LED |
| --- | --- | --- | --- | --- |
| Reference | 105'000 | 56'600 | 103'300 | 65'300 |
| Korona - Plant Light Meter | 104'000 | 53'000 | 59'000 | 63'000 |
| Nurus Light Wellness | 518'000 | 108'682 | 118'102 | 375'541 |
| Lux Meter - Lumi | 230'000 | 43'672 | 52'480 | 153'152 |
| LUX Light Meter FREE | 230'000 | 44'713 | 50'932 | 153'153 |
| Lux Light Meter Pro | 62'000 | 4'312 | 4'648 | 32'168 |
| Light Meter - measure luminosity | 48'500 | 4'137 | 4'450 | 32'169 |
| Plant Light Meter | >16'000 | >16'000 | >16'000 | >16'000 |
Interestingly, two pairs of apps seem to use the same measurement algorithms and are very close to each other. Unfortunately they aren't close to the reference lux meter. This is highly misleading and creates false trust: If you want to measure accurately, you may try different apps to make sure you pick the best and if they seem to measure about the same... you may trust them. Ouch!
As for the Plant Light Meter, the non-ability to measure illuminance higher than 16'000 lux makes it entirely useless for artificial light setups.
Normalized Error Percentages
| Light Meter | HPS | Spider LED | COB LED | QB LED |
| --- | --- | --- | --- | --- |
| Korona - Plant Light Meter | -1% | -6% | -43% | -4% |
| Nurus Light Wellness | 393% | 92% | 14% | 475% |
| Lux Meter - Lumi | 119% | -23% | -49% | 135% |
| LUX Light Meter FREE | 119% | -21% | -51% | 135% |
| Lux Light Meter Pro | -41% | -92% | -96% | -51% |
| Light Meter - measure luminosity | -54% | -93% | -96% | -51% |
| Plant Light Meter | -85% | -72% | -85% | -75% |
Take a moment to study the measurements and interpret them by yourself. We hope they are as eye-opening as they were for ourselves.
Recommendation
Really, we don't tell you this purely out of self-promotion: Use Korona (now named Photone)!
The measurements speak for themselves. Korona is so far better than all the other light meters in the App Store and we are continuously putting so much effort into it to measure even more accurately combined with a great user experience.
Did we miss an app that works more accurately? Let us know!
Important Note
If you're into indoor growing and want to measure the output of your grow lights don't measure Lux or fc. Measure PAR in PPFD. Lux and fc represent the amount of lights visible by humans whereas PAR is the light absorbed by plants. Read more about this in our blog article about PPFD, PAR, Foot-candle or Lux.
Share this Article